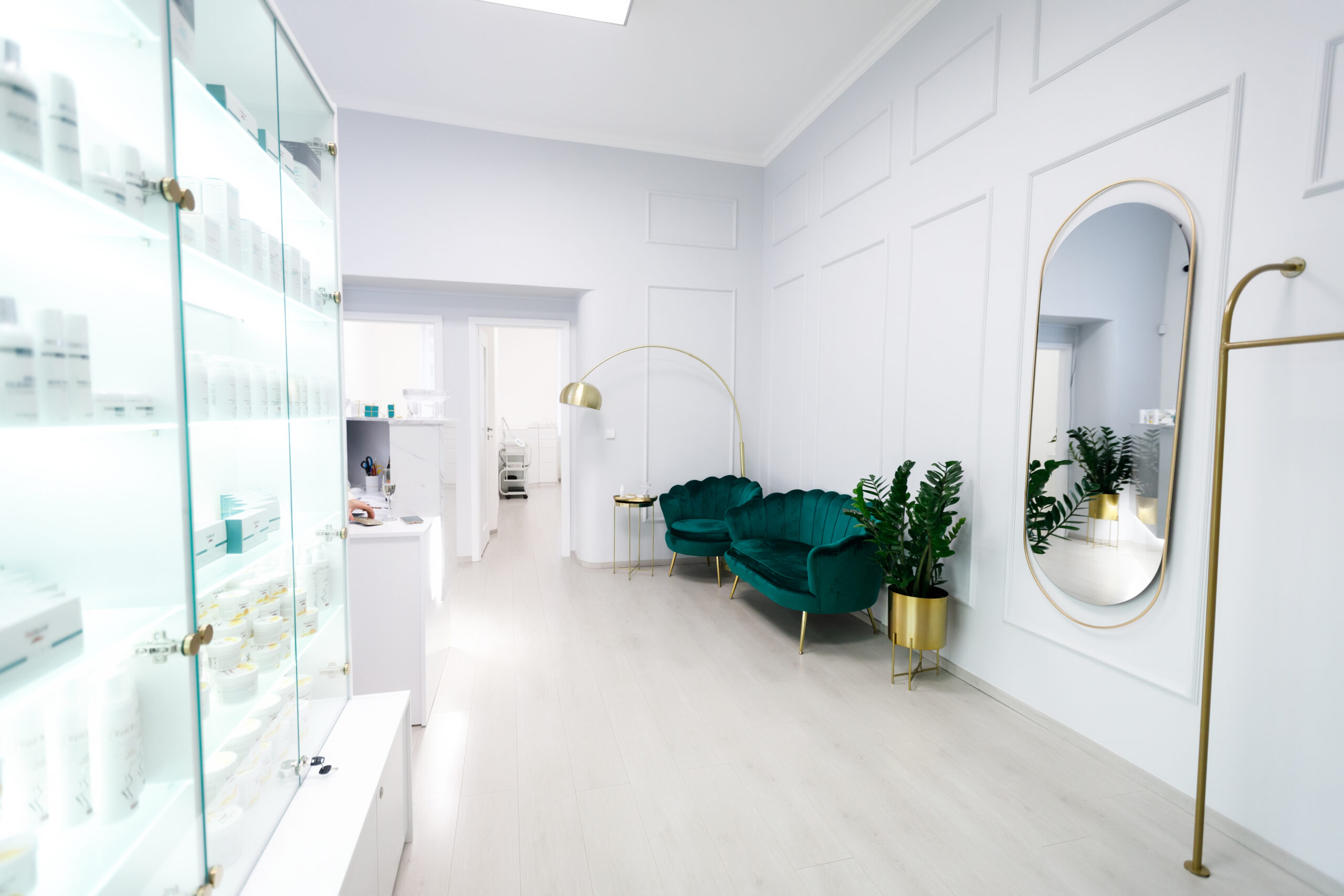 The OXISECRET BEAUTY CLINIC beauty salon Prague offers a high level of state-of-the-art instrumental and manual treatments. All cosmetic services are performed under the supervision of a dermatologist. Professionally trained, certified staff with many years of experience will select specific facial and body treatments for the client's individual needs.
After many tests that have been carried out, we have not only professional care of the highest quality, but also home care products with maximum quality and effectiveness such as: DMK-Danne Montague-King, Teoxane, Payot, Renophase, Medic8, Dr. Christine Schrammek, Epil Beauty and more.
In addition to a wide range of cosmetic treatments, we also offer medical-aesthetic services (chemical peeling, acne removal, fibroid removal, hemangioma and red veins, biorevitalization of the skin).
For your maximum satisfaction, the OXISECRET BEAUTY CLINIC team is constantly educating itself and following the world's developments in the field of cosmetology. You can find our cosmetic salon in Prague at: Jugoslávská 12, I.P.Pavlova. So come and see for yourself about our services, we will be looking forward to it.
Why come to us
We are a team of people in the right place because we like to do our job, honestly and properly. We treat each of our clients individually, and we always put the care of our customers first. A satisfied client is the driving force behind our business, nothing makes us happier than a smile on our customers face. We believe that these combined values are the real reason why our clients love coming back to us.
Why choose OxiSecret Beauty Clinic:
We are a modern and clean environment, tailored to VIP customers
P.S. Every customer is a VIP for us,
We speak: czech, english, russian, ukrainian languages,
Easily accessible location in the centre of Prague ( P. Pavlova),
Quality service,
The latest technology,
Modern instruments,
Always guaranteed results and satisfaction of every customer,
We only work with staff with many years of experience,
You can make an appointment 7 days a week,
Free WI-FI,
Free drinks and snacks,
We offer convenient packages for regular visitors,
Gift vouchers in any value,
On-line reservation,
We accept benefit and credit cards
Wide range of services
Hair removal / epilation / cosmetics / permanent make-up
Free consultation for every treatment
Fast ordering times
Sale of professional cosmetics from top brands
We constantly follow new trends, we bring them to you
Every procedure is carefully tested in practice personally
We have a large number of satisfied clients who regularly return
It matters to us how happy you are with the result!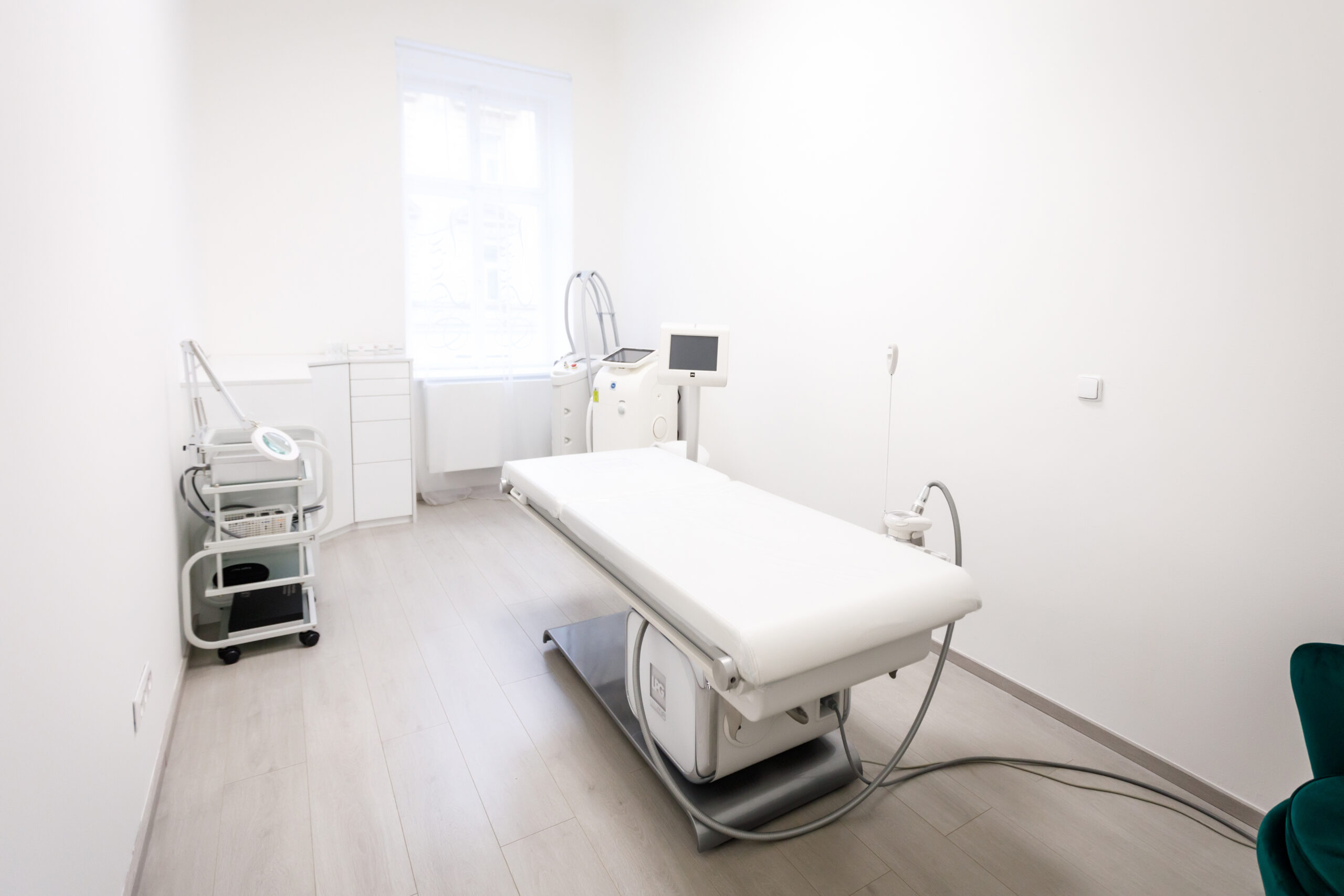 OXISECRET BEAUTY CLINIC PROCEDURES
Our cosmetic dermatology centre will make sure you feel good and get a guaranteed result from every treatment. OxiSecret Beauty Clinic offers a wide range of cosmetic services for face and body. We offer diverse and effective beauty services in Prague. Our beauty salon in Prague 2 offers a spectrum of beauty services such as:
Biorevitalization of the skin with hyaluronic acid.This type of treatment acts as an effective cosmetic procedure and deep skin hydration, skin lifting, removal of mimic wrinkles, skin brightening and smoothing of deep wrinkles.
Mesotherapy in Prague – Dermapen, a vitamin cosmetic procedure, achieves overall skin rejuvenation, skin colour unification, maximum skin hydration. Aesthetic mesotherapy with hyaluronic acid or microneedling works by injecting a cocktail of vitamins and acid into the skin's middle layer This cosmetic treatment can also be used as hair mesotherapy against hair loss, mesotherapy for hair growth, hair thickening or preventive help against alopecia.
Permanent make-up in Prague – years of experience and constant monitoring of new trends in the field of micropigmentation of eyebrows allows us to offer services such as:
Permanent eyebrow make-up: microblading, eyebrow hair, powdered eyebrows, ombré eyebrows, 2D eyebrows, 3D eyebrows or natural effect eyebrows. With each technique of the listed eyebrow tattoo, the result will give the most natural impression. We also offer microblading training
Eyeliner tattoos, eyeliner between the lashes, smokey lines or Cleopatra's line – each of these micro pigmentation eyeliner techniques will enhance your eyes. The natural look of eyeliner tattoos achieves an optical thickening of the eyelashes. Your eyes will look perfect and appealing. The overall result gives the impression of greater thickening of the eyelashes. The lower lash line tattoo will perfect the almond effect of the eye.
Tattooing of breast areola in Prague – micropigmentation of breast areolae is suitable after plastic surgery, tattooing of areolae, tattooing of nipples after breast augmentation, or tattooing of scars after plastic surgery. These are different techniques for different requirements. Always have a consultation with a specialist before the procedure, draw the shape, choose the color to match the natural texture of the breast areola after the procedure.
2D areola- perfecting the shape of the areola, saturating it with colour, covering the scar if necessary.
3D areola – this technique is suitable after plastic surgery of the breasts and after chemotherapy where tattooing of the areola is used at least three different colors in such a way that the identity of the real areola is formed.
Micropigmentation of lips in Prague- beautiful full lips are desired by many women! OxiSecret salon in Prague offers variants of lip tattoos such as:
2D lips – 2 colours are used where the perfect lip contour stands out and one shade lighter colour is applied to the centre of the lip for a full lip effect.
3D lips – optical lip augmentation. This technique allows us to give the impression of lip augmentation. The beautiful lip contour perfects the shape of our mouth and the lighter colour by 3 shades renders shiny soft lips.
Natural effect lips or virgin lips, innocent lips – this technique is suitable for women, and also for men, where the colour of the lips is saturated while maintaining the natural shape and contour of the lips, just perfect natural lips.
Technique lipstick effect or lip micropigmentation. It is an intense lip color, including contour.
Each of the techniques can last 2-3 years, but a lot depends on the actual lip regeneration for each person.  After each application of lip micropigments, your lips will look natural while looking bold and sensual. Your beautiful lips will look impressive.
Green Peel in Prague – also called natural peeling – is the best solution in cosmetic dermatology. It is a biological peeling where the skin undergoes to total regeneration within 5 days, the effect of porcelain skin. Green peeling solves problems like: removal of pigmentation of various origins, smoothing of mimic wrinkles, face lifting, removal of acne, removal of post acne, removal of keratinized skin.  This beauty treatment is popular for vegans, the so-called vegan beauty treatment. The way it works is that the herbal blend acts strong on the blood supply to the pletia area peeling off the surface layer of the skin. At the same time, cell renewal and skin regeneration occurs.
Smoothing wrinkles – and overall skin regeneration will make the skin glow. We will restore your face to a naturally fresh and youthful appearance.
Green Peel Classic is recommended in winter because of the drastic peeling of the skin on the face.
Green Peel Energy is the best solution as a cosmetic treatment after menopause, this treatment restores the healthy appearance of the skin where the blood microcirculation of the skin occurs, your healthy skin will say thank you.
Green Peel Fresh Up is the best solution for acne-prone skin – this cosmetic treatment solves problems such as: thorough deep cleansing, treatment of inflamed skin, closure of wide pores on the face, and also reduces excess sebum. Green Peel cosmetic procedure in Prague is also suitable as a procedure for the body, namely: removing stretch marks after childbirth, or firming the skin after rapid weight loss.
Lipomassage in Prague LPG CELLU M6 – this cosmetic device takes care of non-surgical face lift – face lifting by massage. With LPG facial massage will also perform a perfect massagelymphatic system and overall blood circulation and hydration of the skin, will also improve the contour of the face, to remove wrinkles around the eye area, overall stimulation of collagen.
LPG body massage is the most effective removal of cellulite, LPG machine is suitable for massage of the lymphatic system, classic body massage, body shaping, firming the skin after rapid weight loss, firming the skin of the abdomen after childbirth. We are the only beauty salon in Prague where lipomassage of the body takes 45 minutes instead of 30 minutes. LPG massage in the centre of Prague, very accessible location, LPG in Prague 2.
LPG Cellu M6 Alliance is the best alternative to liposuction for the treatment of cellulite and overweight.
Problems that are easily handled by the LPG machine:
stabilization of blood and lymph flow;
restoration of collagen fibres of the skin;
significant reduction in body volume;
firming the skin after rapid weight loss;
effective and permanent cellulite removal;
firming the flabby abdomen;
firming of sagging skin in the arms;
alleviation of scars on the skin;
removal of swelling of the whole body;
blood circulation and unification of skin tone;
effective lifting and contouring of the figure;
The M6 Alliance LPG Cell Massage is more accurately a body correction than just a weight loss, and also a highly effective lymphatic massage
LPG treatment is recommended 5 to 10 treatments two to three times a week.
Rf procedure with WOW SHAPE – Rf device with radiofrequency light and vacuum discs. This radiofrequency device can achieve the removal of unwanted pads on the thighs, tightening of sagging skin in the arms, removal of fat pads on the hips. Would you like to get rid of cellulite quickly? Then the radiofrequency device solves the problems after the first treatment. For perfect body shaping, 5 treatments every 7 to 10 days are recommended.
HIFU SMAS lifting -Ultheratherapy achieves skin rejuvenation without a scalpel. HIFU therapy procedure is painless. UltraLIFT method will instantly smooth your nasorethral lines.
With the Ulthera neck and décolletage firming procedure, you can already see the result after 10 days. The firmness and elasticity of the skin with the SMAS LIFTING device lasts permanently, sagging skin regains its elasticity and suppleness, 5 years younger appearance. HIFU SMAS lifting is the best solution for sagging eyelids.
With age, droopy eyelids and under-eye circles make themselves known, with the non-invasive Ulthera procedure we can easily restore your youthful appearance. We have a method that will take care of painlessly restoring collagen production – Ultherapy, which will start the overall regenerative process after only one treatment and the skin will be tightened, regaining lost tone and elasticity. The formation of new collagen in the lower layer of the skin, will cause an overall slowing down of skin aging. Ulthera is suitable for those who do not want or cannot undergo plastic surgery. The Ultheralift procedure achieves the body's natural regeneration, gently and gradually restoring the skin's memory and promoting tissue formation. The advantage is that Ultherapy works in the same subcutaneous layer as a traditional plastic surgeon procedure.  UltheraLIFT results after one treatment. Double chin removal with HIFU is the most convenient solution without injections and without a scalpel.
Indications for HIFU SMAS lifting:
Sagging skin and wrinkle reduction,
firming the contours of the face,
tightening of the skin in the cheekbones,
firming and smoothing the skin of the lower and upper eyelids,
regeneration of drooping eyelids,
removal of mimic wrinkles of the eye area,
reduction of the bags under the eyes,
smoothing wrinkles around the lips, so-called smoker's lines,
smoothing of sharpened grooves,
double chin removal,
firming of the neck and décolletage.
The DMK cosmetic procedure has been around for about half a century and offers skin revision programs for all age groups and ethnicities, addressing any skin condition in more than 32 countries worldwide.
Danné Montague-King created the famous concept of "REMOVE-REBUILD-PROTECT-MAINTAIN" , which revolutionized the practice of top cosmetic professionals.  With DMK cosmeceuticals, a positive result is always achieved.
In DMK, the enzyme therapy is the most popular with its unique composition, the ingredients of the enzyme therapy stimulate the regeneration of skin cells.  This method is very suitable for skin eczema problem. It also solves skin brightening, instant skin lifting, post acne treatment. DMK cosmetics also offers: alkaline peeling, combined enzyme peeling, fruit acid peeling.
Tattoo removal is a solution to remove a failed tattoo or permanent makeup.
Remuver for permanent make-up removal has a special formula that can cope with the removal of failed eyebrows or even other parts of the body.The specialist applies the pigment killer in the same way as a classic eyebrow tattoo, where the top layer of the skin is disrupted, the pigment killer captures the pigment particles, which are then washed away by the lymphatic system. The procedure is repeated no sooner than 4 weeks after the skin has fully recovered. Pigment killer remover is gentle on the skin. Removal of micropigmentation is recommended from about 3 treatments.
The BB GLOW procedure is suitable for: lightening dark circles under the eyes, unifying skin colour, lightening pigmentation; smoothing mimic wrinkles, hydration and skin renewal, overall skin glow.
Microcurrent (microcurrent therapy) – Guinot, the main purpose of which is to rejuvenate the skin by means of a pulsed current that actively acts on skin cells, stimulating the muscle, lymphatic system and blood vessels. Microcurrent therapy works very well on skin types such as: dry skin, aging skin, also very effective for wrinkle removal, acne treatment, lightening hyperpigmentation, overall face lifting. Grey skin regains its healthy skin appearance, the skin's own ability to produce collagen occurs disturbed skin turgor returns to its original
RF-facelift is an effective alternative method of plastic surgery where it works on improving scars on the skin, and also on breaking down unwanted fat. The result of the procedure is visible immediately after the first treatment. It effectively removes deep wrinkles, accentuates the contours of the lower jawline, and creates cheekbones.
Chemical peeling – fruit peeling is a very effective method of influencing the condition of the skin.
It is used to alleviate the signs of skin aging, smooth and tighten the skin, treat acne and remove pigmentation of various origins.
Chemical peeling removes the superficial and deep layers of the skin. After the skin regenerates, wrinkles are smoothed. Skin balancing occurs, maximum skin hydration, and removal of acne and pigmentation.
Renew Lift: skin lifting, wrinkle reduction and removal, wrinkled and sagging skin restores its youthful appearance.
Reprogrammation: skin renewal, skin regeneration, addresses problems such as: stressed skin, sagging skin and skin altered by menopause, skin after pregnancy and childbirth.
Depigmentant: treatment of hyperpigmentation of various origins.
Kératorégulateur: treatment of acne, seborrhea, regulation of sebum production, occurs with the use of wide pores.
Painless, fast and effective procedure of hair removal with diode laser.
Permanent hair removal and life run razors!
The most effective way today to get rid of unwanted hair – diode laser hair removal.  Diode laser hair removal is today's trend to get rid of unwanted facial and body hair. Painless and effective procedure. Diode laser is gentle on the skin.
Sugar paste hair removal removes hair on any part of the body, for both women and men.
Sugar paste hair removal is gentle on the skin. On sensitive areas such as the face, groin or underarms you will notice the redness of the skin disappear very quickly.
OxiSecret Sugar Paste removes hair with only dead skin cells, so it acts as a gentle peeling.
You will appreciate the advantages of OxiSecret sugar paste especially when depilating sensitive intimate areas.
We completely depilate the intimate parts in front and behind. For men and women. According to your wishes, you can leave the hair in the shape of a strip or triangle.
Impress with the deep look of perfectly groomed eyebrows!
The colour is chosen to match the client's hair colour and type. The aim is to maintain a natural look.
The staining time lasts approximately 4 weeks.
OxiSecret Lashes : ideal natural lashes with a natural look. The unique eyelash lamination procedure is performed with natural eyelashes using special products.
During the procedure your eyelashes will undergo a complete transformation, your look will be seductive and beautiful. The eyes will be expressive, visually enlarged, the eyelashes beautifully curled and visible.
Eyebrow Lamination tames even the most unruly hairs and shapes them into a neat appearance. Lamination is a method of lifting and highlighting the eyebrows. As a result, you get a perfectly shaped brow without the effect of glued-on hairs.
OxiSecret Acne Multi-Purpose Complex: Regulates sebaceous gland function, has cleansing, antibacterial and soothing effects. It promotes deep cleansing of clogged pores, thereby eliminating blackheads.
Cleaning the skin
Wiping away acne
Soothing the skin
Reduction of inflammation
Removal of blackheads on the nose
Regulation of sebum
A unique deep cleansing technique developed by OxiSecret Beauty Clinic experts with many years of experience. After our deep cleansing you can go on a date right away, your skin will be clear without inflammation!
Perfect skin – instant brightening, lifting and regeneration of the skin
In order to make your skin shine with natural beauty and freshness, the experienced specialists of OxiSecret Beauty Clinic have developed the Perfect Skin method, which makes it possible to solve a number of problems:
pigmentation, dehydrated skin, wrinkles, post-inflammatory pigmentation, enlarged pores, grey skin, uneven skin texture, scars, skin shine, Stressed dehydrated skin, Reduced skin elasticity, Porous skin, Fine lines, Deep wrinkles, Dark circles under the eyes, Under eye bags, Skin prone to puffiness, Post-acne spots